Teardrop Trailer
Rob's Teardrop and Roadster

My love of the outdoors and camping was nurtured by my parents, who took us on many a memorable adventure! We never had a camper, It was all in a tent.
Somewhere in my early youth, I became fascinated with all things old, cars especially,teens thru 30's.
After a few years of owning several different makes, I found a 28 A Roadster,decided this was the one to keep!
Always wanted to build a Teardrop, my sons 16th birthday got me in gear, wanted to share one last very special adventure!
I was given an old flatbed trailer with a rotten floor.
It was just the right size for a teardrop.
This picture shows the sides installed, and the roof going on.

At this point, we were close enough to put a mattress inside and try it out! In reality, the bed was used to get accurate measurements for things like cabinet placement, lights, windows, etc.

I built the trailer on a pretty tight budget and recycled material where ever possible.
The Winnebago door, front window, and aluminum siding, and much more was "recycled".

After getting the shell done, we filled all the knot holes in preparation for painting.

Even though the sides were to be covered in aluminum, it is important to seal as much of the wood as possible. In addition to preventing damage from errant moisture, wood sealed on all sides, edges included, is much more stable than wood that is sealed on only one side.

This shot shows the rims freshly cleaned and painted, with new tires installed. I wish I had better pictures to offer, but at the time I had only an old film camera, and almost no knowledge of computers or how to edit/repair images, they're not very good, but they're all I have...
This is the kitchen, or galley. The cooler slides out, and the counters fold down.
After getting this far, I realized that the axle was too close to the center. It pulled okay, but didn't look right (working in a small garage without the ability to stand back a ways and have a good look now and then is a problem...) The propane tank on the tongue also didn't look right, so we removed it.

The wings and old cooler added to the look.

A 1 pound disposable bottle worked out much better than the large tank up front.

With these long, long springs, it rides very well!

The roof rack is very handy!

This is what the interior looks like. The full size bed takes up the entire interior floor space, with the cabinets above the foot of the bed holding clothes, and the television. Not the same as a luxury RV, but a far cry from a tent and sleeping bag!

The interior is 7' long, sized for my son. I'm the short fellow on the left, at 6'-2" tall.

Well, here it is, finished and loaded for our trip. We headed out that morning on a two week, 1500 mile journey.

One of our tourist photos. It was pretty hot out that day, had to use the model A's a/c.
We didn't plan ahead very well at this stop, but at least the bathroom was close (it was the only site left).
See the country, or be in the country...
For some, this is camping in the busy Midwest...it was the only thing left. In fact, there were no spaces left, the folks on the right were kind enough to share. It was appreciated, but we pulled out early the next morning!

We got better at arriving early enough to get a good spot.
Did a little boating on our trip, here we are on a ferry crossing the Mississippi.
I took this picture from the top of a fire tower...
took awhile to feel good again...

It sure was nice to be able to enjoy this special time with my son. Children have a way of becoming independent, not a bad thing, but something to celebrate. The idea here was to enjoy those last days before the final changes took place. We timed it pretty close, a few months later, it began.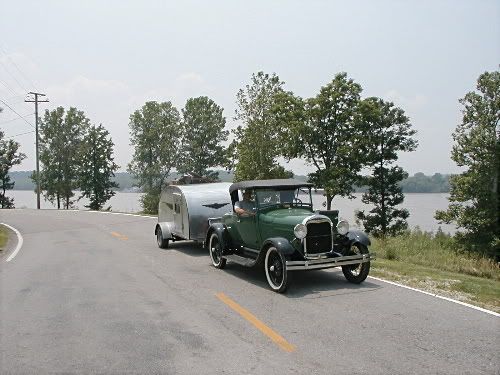 This is the a/c I mentioned.
He had just received his drivers license (16) and was a bit nervous driving with the trailer attached.

Driving in the campground seemed better.

Doesn't seem too nervous now...hmmm

Many years have passed since that journey was completed (2002). He is grown and gone now, and doing well. I like to think that some of the talks we had by the campfire stuck with him, and made his transition a little easier to understand. Either way, the memories are forever! We still see each other often, and maintain a close relationship.

If you have children coming of age, better hurry, for soon they, or you, will be gone...