Modern Version of a Cabin Car Trailer!
Welcome to my page on the construction of a modern version of the late 40's Cabin Car trailer.
After falling in love with the long, low, sweeping design, I just had to have one!
I looked and looked for several years, but since there are only a handful left in existence, I soon came to the conclusion that if I were to own one before I became too old to enjoy using it, building one was the only practical solution!
The idea was to create a trailer that retained the look and feel of the originals, but offered a more modern use of the available space in the floor plan.
While common in the 40's, wearing suits and dresses even while traveling with your trailer was important, and the original design filled that need with closet and shelf space, as well as a very generous trunk area for luggage and other gear.
I don't often wear a suit while camping (or any other time) nor do I need to bring a lot of luggage or camping gear, so, those once important spaces were reclaimed!
The original cabin interior design was practical with a fold down couch and a drawer/table unit. It worked, but I wanted something more...
I had camped for many years in a tent, hauling all the associated supplies in the car or back of the truck. It was fun when I was younger...
We next built and used a small teardrop trailer. It was like heaven sleeping on a real mattress, and not having a leaky tent dripping on you when it rained. We also had a small kitchen in the back. The trailer was nice. It allowed us a lot of comforts and reduced the amount of gear we had to bring, but we still had to put it somewhere, and inside the trailer on the bed was it. Not a terrible thing, but the general idea behind a teardrop was when you got to where you were going, or just along side the road, you could open the door, climb in, and go to bed.
Nice thought...but it didn't work that way because the trailer (bed) had all the camping gear piled on top of it!
The teardrop design is the cabin, which holds the mattress, that's it, no other room except the kitchen which is accessed from outside. So, the ease and simplicity of the design was thwarted by all the "stuff" we needed, or thought we needed to bring.
The ideas I had bouncing around in my head for the Cabin Car solved that issue by finding, or making a "place" for each and every item that we would normally bring on a camping trip.
The only other "issue" to solve was my strong dislike for public restrooms/showers at campgrounds.
While public facilities are usually nice, and reasonably clean, I just can't see standing in line with a bunch of men I don't know, to do my personal business while they stand in line waiting for me to finish...No place like home...
Besides, one of the driving forces behind making the trailer fully self contained was to be able to attend events where no facilities were available.
So, since I was aiming pretty high (ideas, not restroom...) might as well have it all, no? The final design included a bathroom.
We found room for all the things that were on the wish list, and no longer have need to put anything on the bed!
Here is a partial listing of the modern amenities we included;
12 Volt self contained electrical system (battery powered)
120 Volt system
A/C When 120 Volts is available
Propane gas system with 11# tank and capacity to accept disposable bottles
Gas water heater
Automatic water pump
21 gallon fresh water tank
7 gallon gray water tank
Propane furnace
Floor and ceiling vent fans
Vintage interior lighting
15" Flat screen television
Cable TV/antenna hookup
DVD player
Shower/tub
Toilet
Clothing drawers under the bed
Sink with hot and cold water in the Cabin
Vintage deep bowl sink in the kitchen with hot and cold water
Food and pots and pans storage areas
Large cooler accessible through countertop
Vintage Modernaire two burner propane stove
And a few other things...
"Camping" it may not be, but comfortable and relaxing it is!
I used many vintage and NOS (new old stock) parts in the construction of the trailer to help provide/retain a vintage look or feel.
The steel frame under the trailer is from a late 40's travel trailer that I salvaged from a parts trailer I bought to rebuild a similar model.
It was quite a project, taking just under two years to complete, but was a very enjoyable one!
I have "showed" the trailer in order to be able to camp on the grounds of a swap meet or vintage tractor show, but my version is not a "show" trailer. It is a fully functional travel trailer that we use as intended!
Rob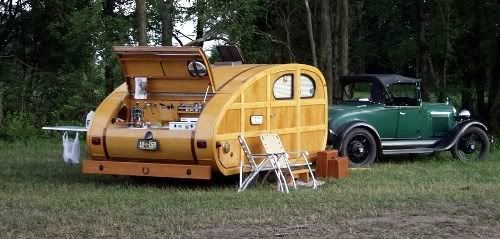 The following photos give a general view of the construction from start to finish, with many showing details to help other builders understand "how" it was put together.