Trip out West
Hi all,
A few weeks ago, my employer asked if I would be interested in a road trip to Phoenix.
I accepted without hesitation.
The purpose of the journey from Illinois to Arizona was to deliver a load of furniture to his retirement home in Sun City.
It seemed a perfect opportunity to share some time and scenery with my youngest child Sarah, who is 13.
We loaded a 14' covered utility trailer a few days before Christmas, and left home at 4:30 AM. the day after (2007).
We got this shot of the Gateway Arch in Saint Louis at daybreak.
Please forgive the quality of some of the pictures...it is difficult at best to take good shots while driving at 70+ avoiding traffic, and staying on the road...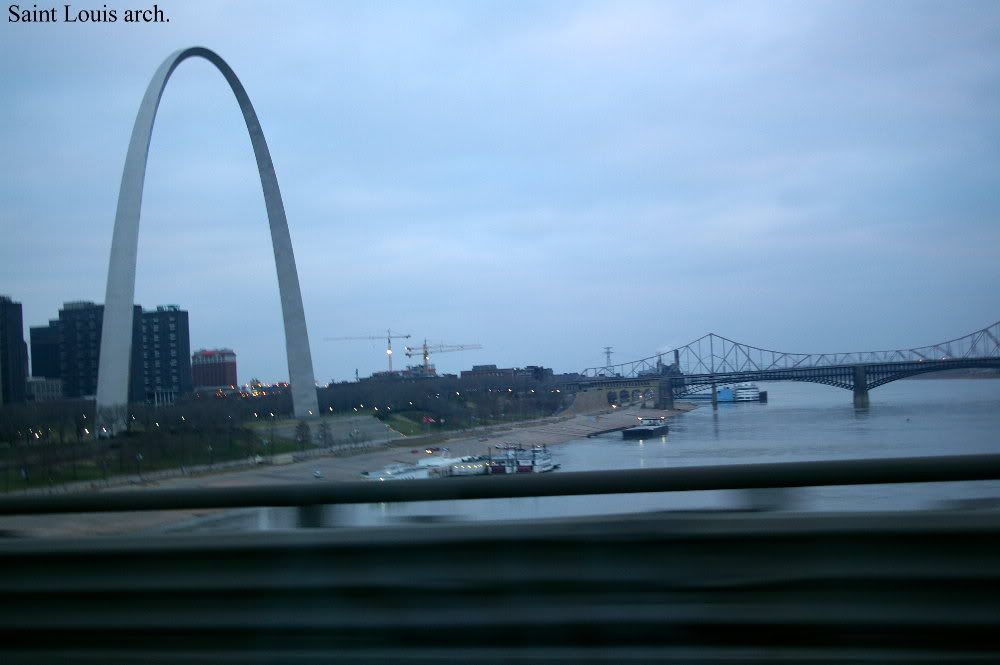 This old gas station set against the timeless image of Kansas grain elevators caught my eye...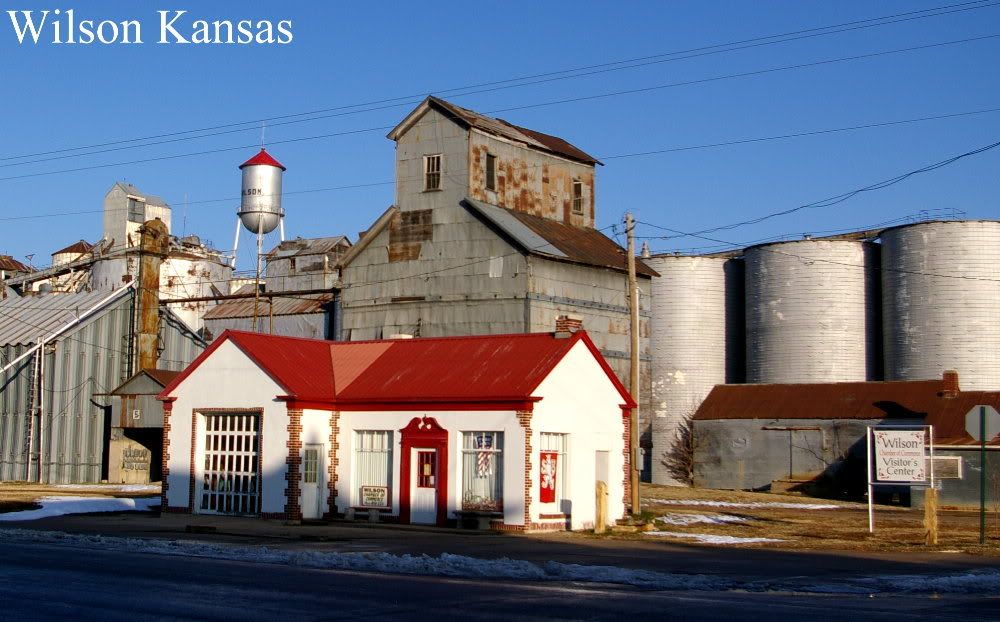 While we were in the Phoenix area, Craig McCormick and his wife Jill gave us a grand tour of their domain.
Along with searching for vintage trailers, they took us out in the desert to one of their favorite spots where I was able to get some very nice photos of these impressive cactus.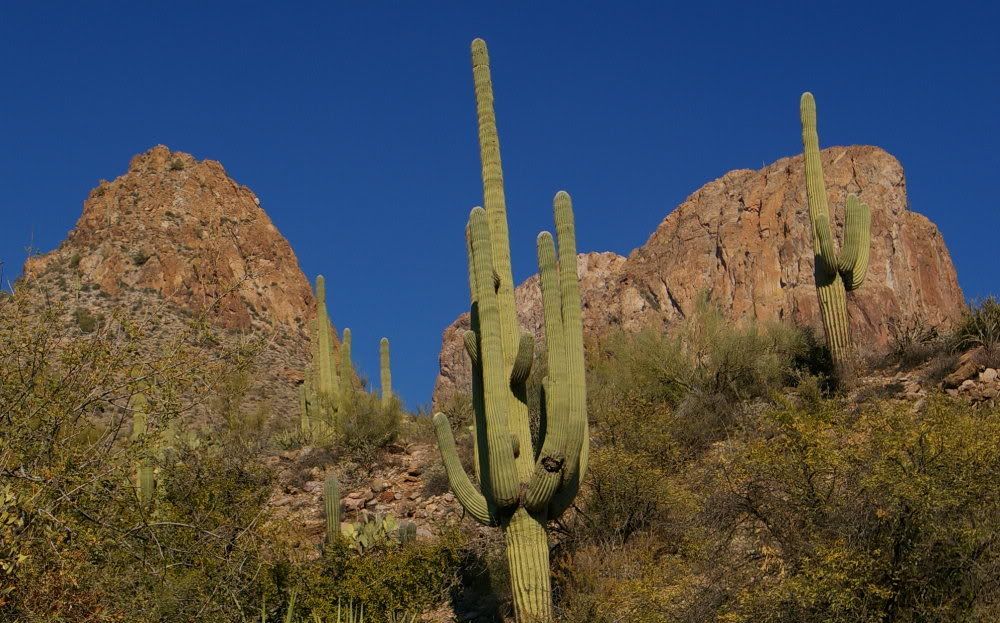 After delivering the furniture, and spending a few days in Southern Arizona, we headed North to see the Grand Canyon, Four Corners, the Colorado mountains, and anything else we could squeeze into the remaining time we were allotted.
Four corners was a dissapointment...
We arrived on New Years day, and they were closed.
The monument is accessable by paying a small fee to the native American land owners.
The dissapointment came not from the fee, or ownership, but from the run down, filthy, junk yard appearance of the site. :(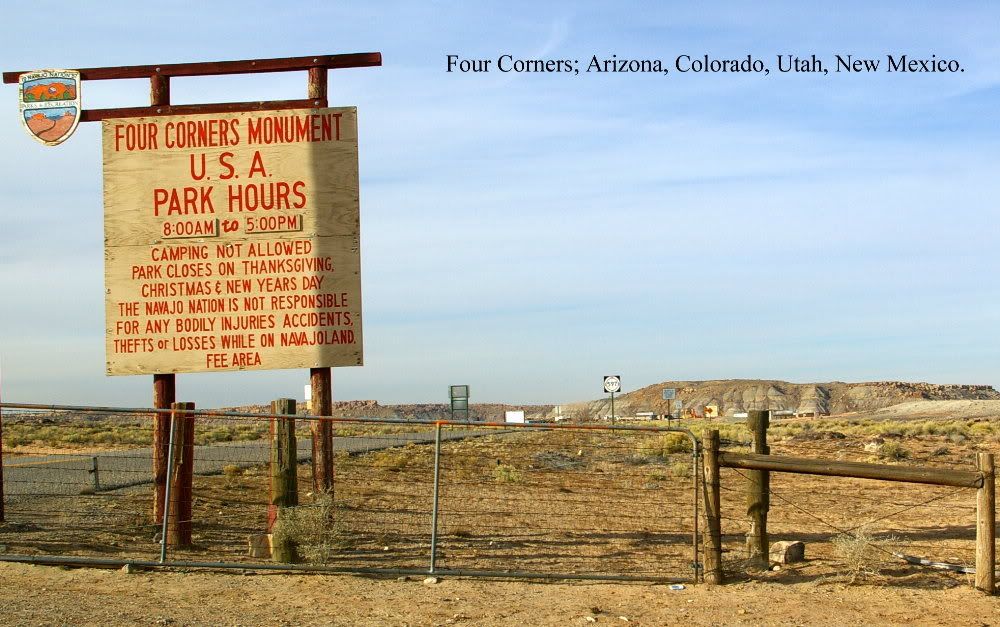 We passed through the end of monument valley, a vast expanse of very large rock formations, maybe on our next trip we can spend more time exploring the valley.
As a child, my parents took us to, and through Arches, and other parks in the area, I remember the places left me filled with awe.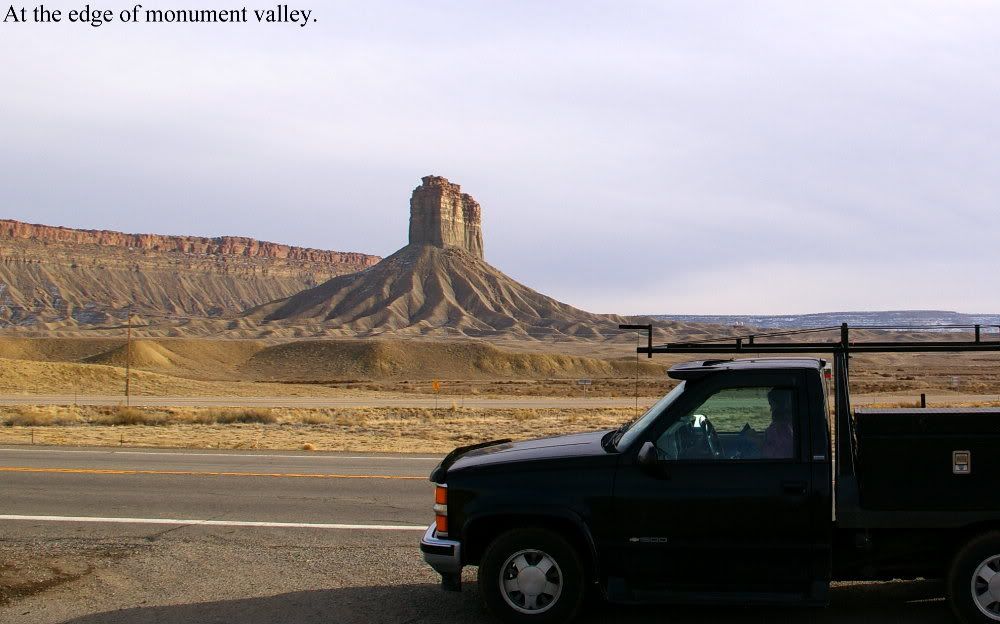 While traveling through the arid desert of Northern Arizona, we came upon this lake.
It seemed quite out of place, but very pretty.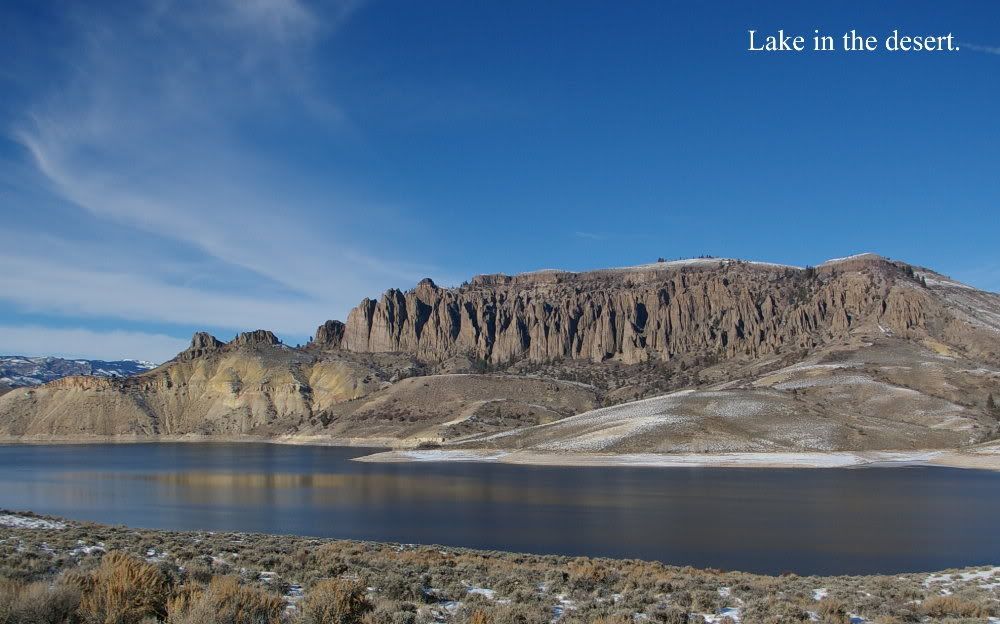 This road was built by local Indians hired by the Government at the turn of the Century.
Mules and a lot of manual labor created a route to a remote canyon where a dam was built.
Today, the 20+ mile long gravel road is a step back in time, and a great way to get away from Phoenix!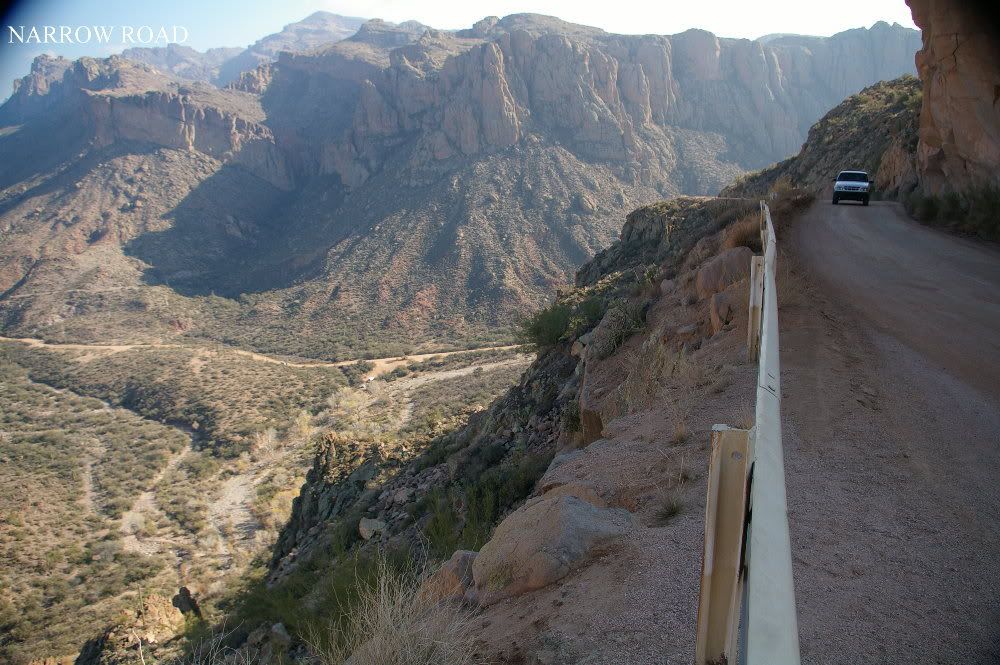 This tower got our attention, as it did everyone elses...
The locals told us that it was merely an advertisement for a now closed truck stop.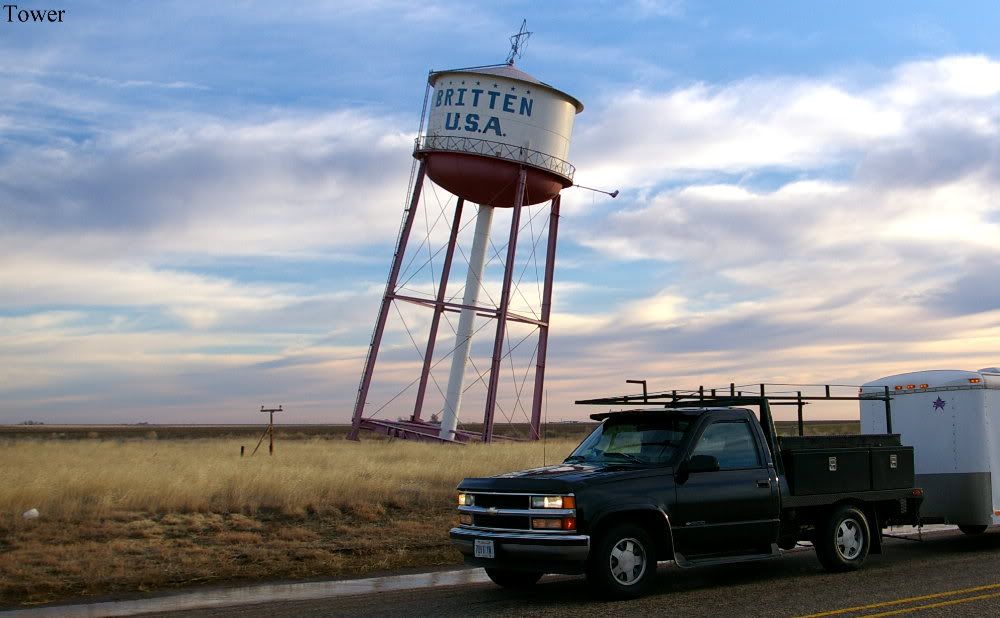 As the day drew to a close, we rolled into Texas, and this photo opportunity.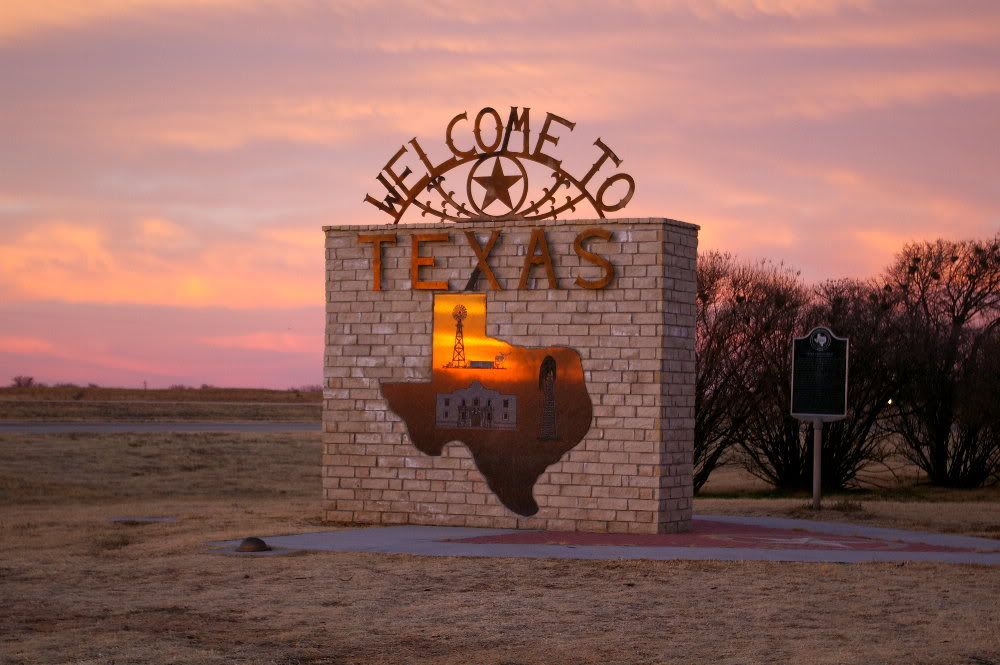 High up in the Colorado Rockies, we happened upon this once grand wood railroad car, which had seen duty as a cabin, before being abandoned to the mountain.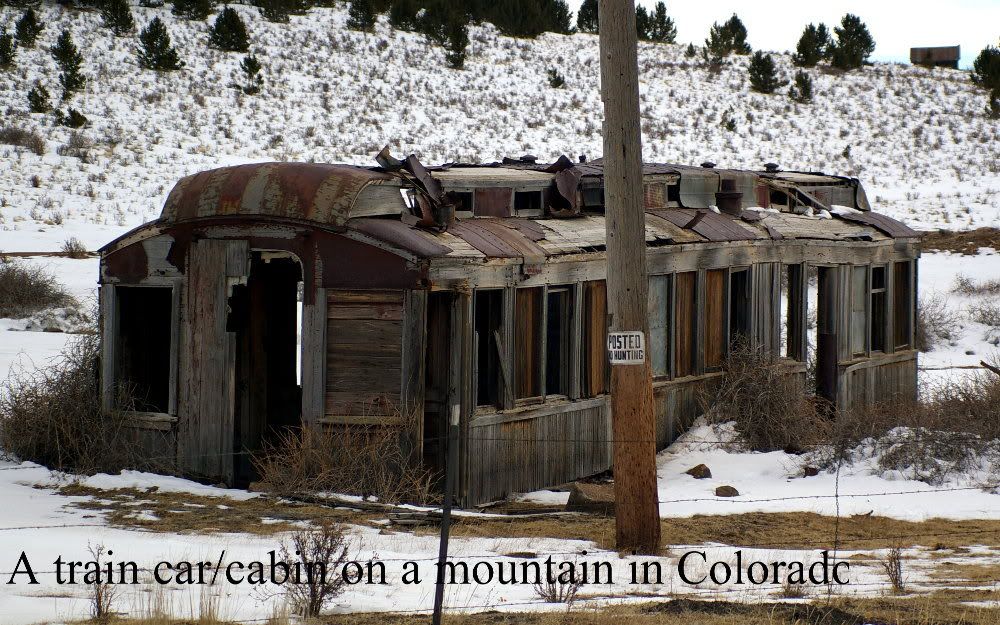 A few years back, we had been in Colorado, and had found a really neat road coming down out of the mountains.
On this trip, I dreamed about being able to explore it once again, but did not believe it was practical, or possible.
You see, the road was really a one lane dirt path that in the late 1800's had been the rail bed for a narrow guage railroad. The tracks had long been removed, and the tressles converted to road bridges. This path started in the valley, and climbed to over 10,000 feet in elevation.
Very wild, desolate country this 25 mile road delivered you through. There are no gas stations, no houses, no guard rails, and no help. Slide off the road, and you're done for...
When we first drove this track, it was summertime, and we started at the top, and came down.
Now, it was winter, and we were in the valley. It had been snowing, and it was my assumption that the road was impassible, so I but dreamed.
That is, until we stopped for gas and I asked about the road, it was open he said, but narrow, and slick.
Well...we had packed carefully for the climate and terrain, bringing extra food, water, blankets and heaters in case we were stranded...what's life without a little adventure!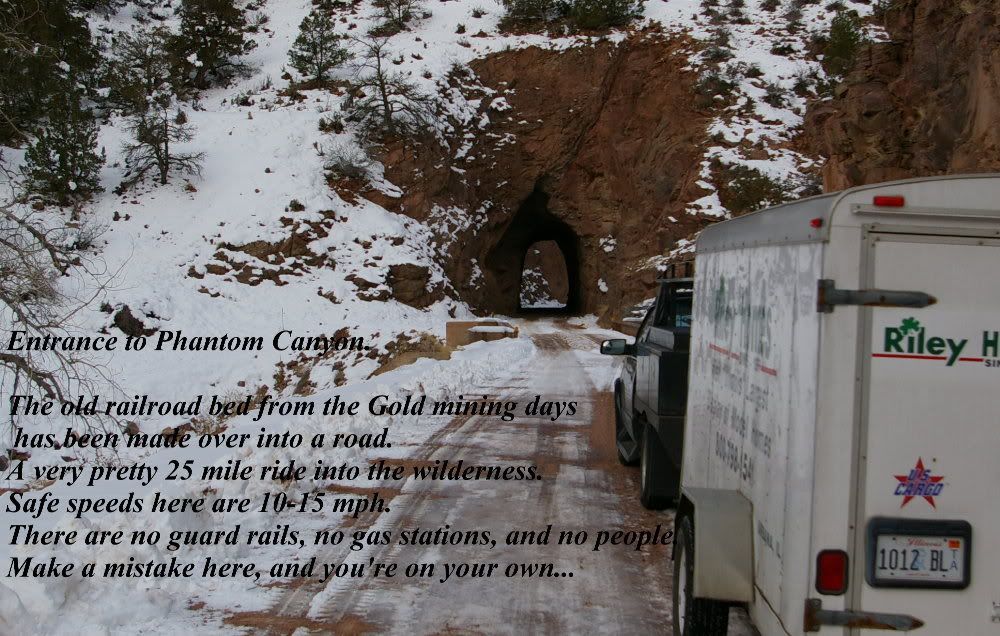 There was a sign at the entrance of Phantom canyon, that warned vehicles longer than 25' were prohibited, as the road really was just a one lane track, with very tight turns, and many narrow squeezes through slabs of rock and tunnels. Anyway, since we were only 35' long or so, we figured it was close enough...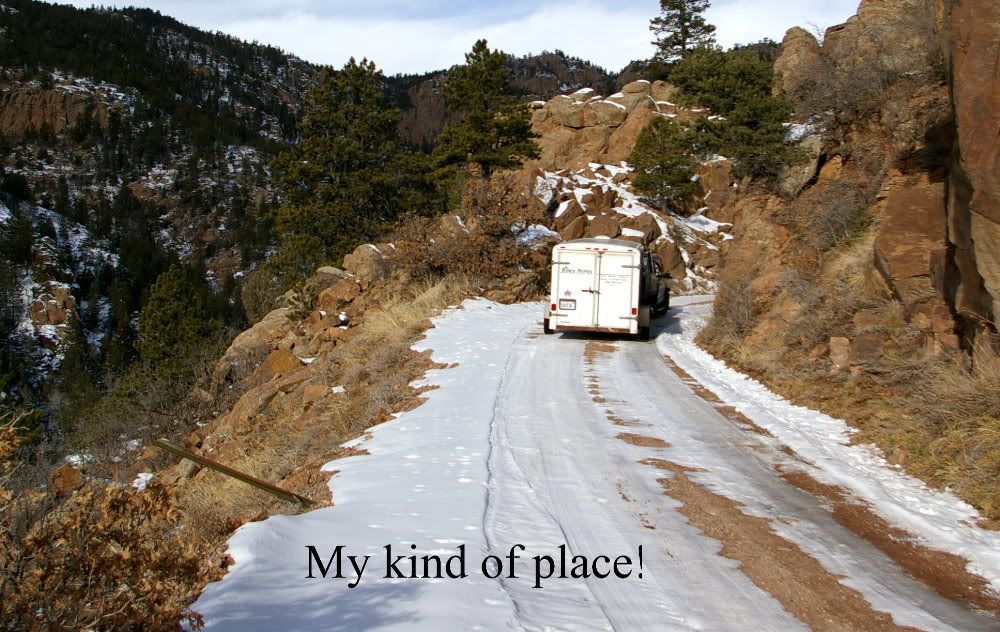 As we started out, and went past the point of no return, it became obvious that this might not have been such a good idea... There was no place to turn around, much less turn around a truck and trailer... Safe speed was 10-15mph, for the next 25 miles...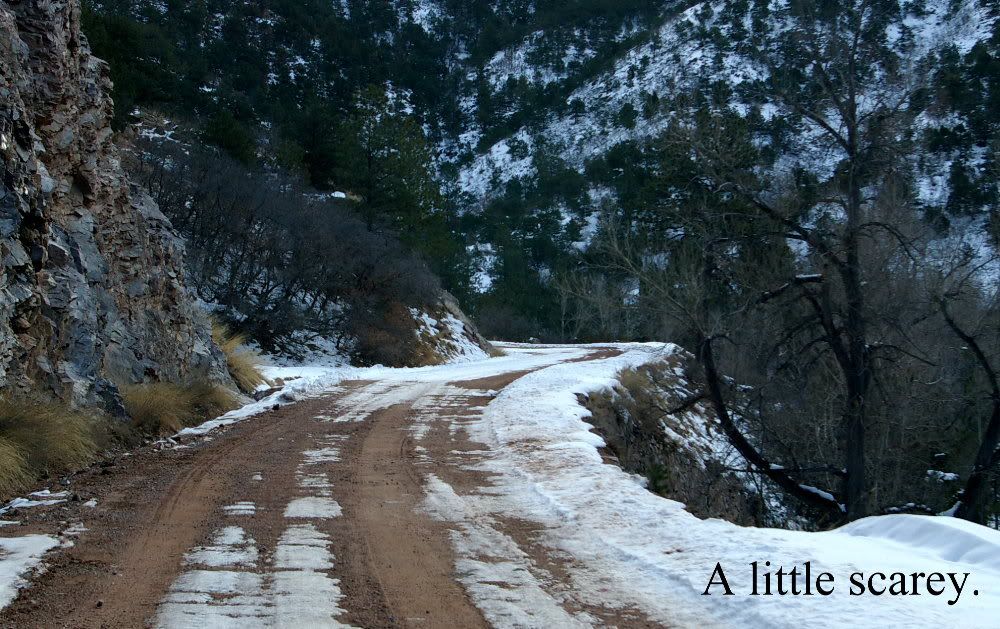 The road was rough and slippery, and though a guard rail really doesn't make a road any safer (unless you start to slide off) their mere presence eases the mind...
As we climbed up the mountain, the road became steeper and steeper. The truck was hanging on just fine, in part due to the new tires I had installed for the trip.
We stopped for some photos, and discovered after climbing back into the truck that it had been a very bad choice. The road was snow covered, and for the most part pretty hard packed, making it slick. As I put it in gear and gave it a little gas, nothing happened...or rather the truck did not move. The only sound we heard was the rear tires spinning against the ice.
Okay, no problem, I'm no stranger to driving in winter conditions. I put the truck in reverse, and slowly and carefully backed up about a foot, then stopped. It was then, that the sickening realization that I had put us in a really bad spot hit me.
As I applied the brake, the truck continued its decent with the trailer happily pulling us backwards, looking in the mirror, the small amount of space between our wheel, and the edge of the road and its hundred foot drop became even smaller! Uh oh!
I quickly moved the gear selector to drive, and gently touched the accelerator pedal. We stopped sliding backwards, but were not yet moving forward...
Despite the winter conditions, sweat was beginning to form, no doubt caused at least in part by my wildly beating heart.
Between thoughts of sliding off the mountain, I was beating myself up for not taking a couple shovel scoops of the fine gravel and sand we found in the tunnel at the entrance to the canyon...
Well, there was but one option, move forward! Since backing up to find a patch of gravel was too dangerous, I let the wheels find the gravel. By allowing the wheels to spin slowly, we maintained control and the wheels melted through the snow.
After melting a trench about a foot long, we were able to gain enough momentum to overcome the ice. Whew! We stopped no more on the ice!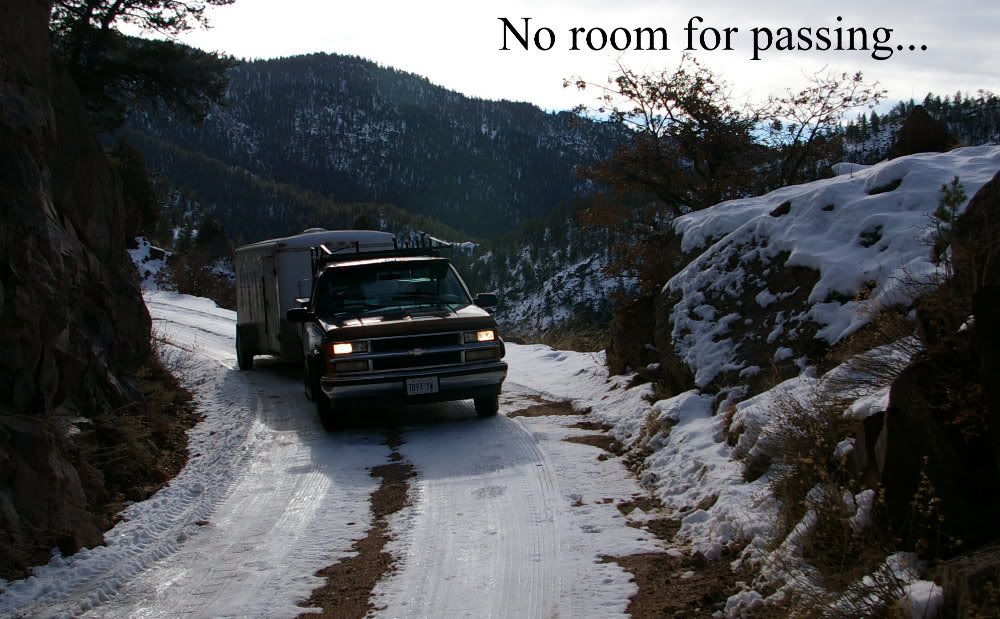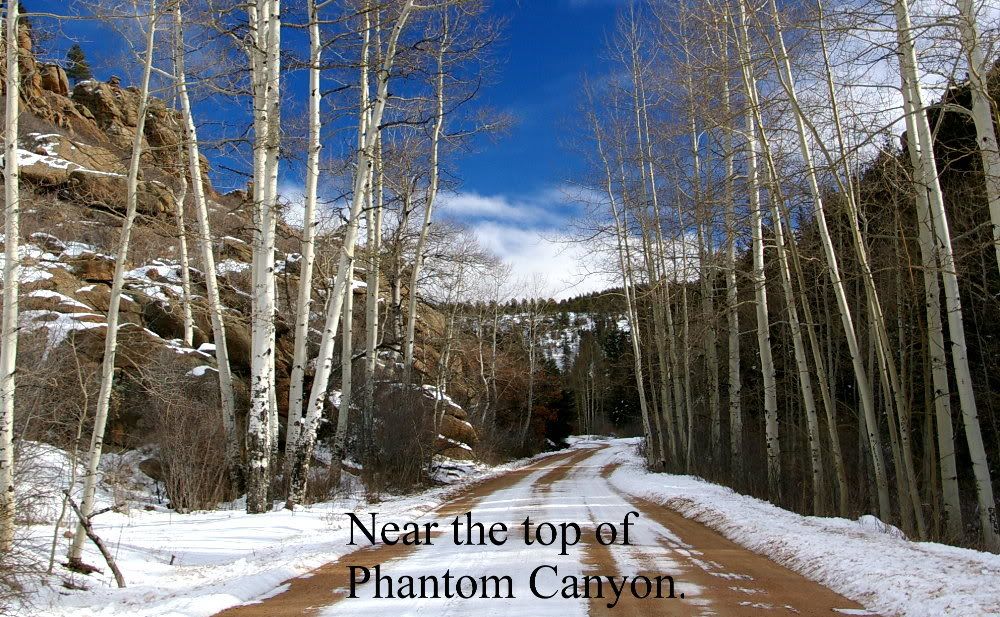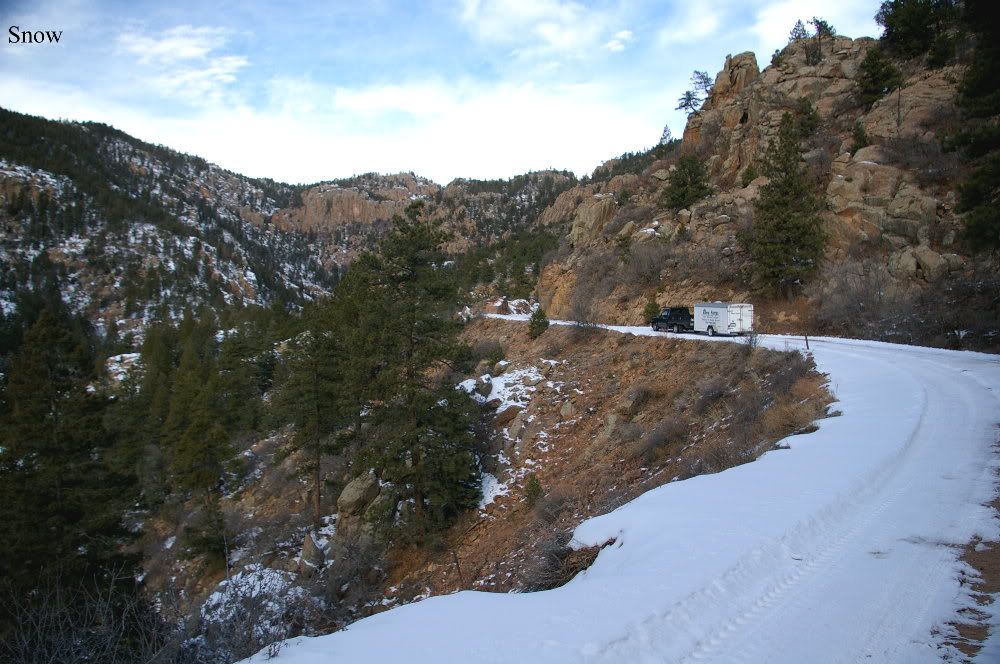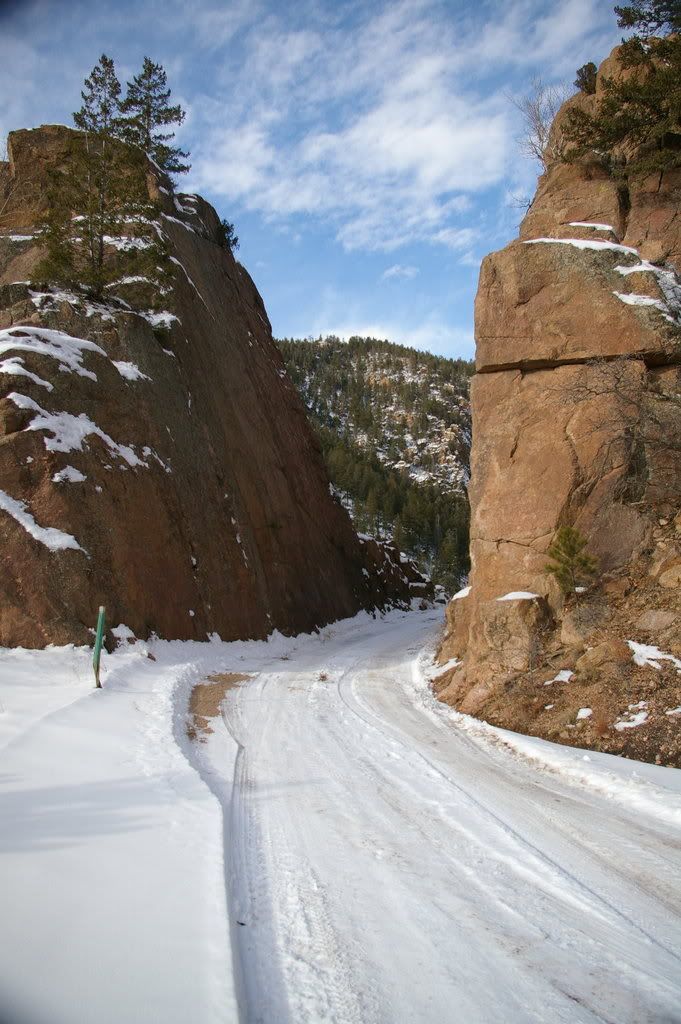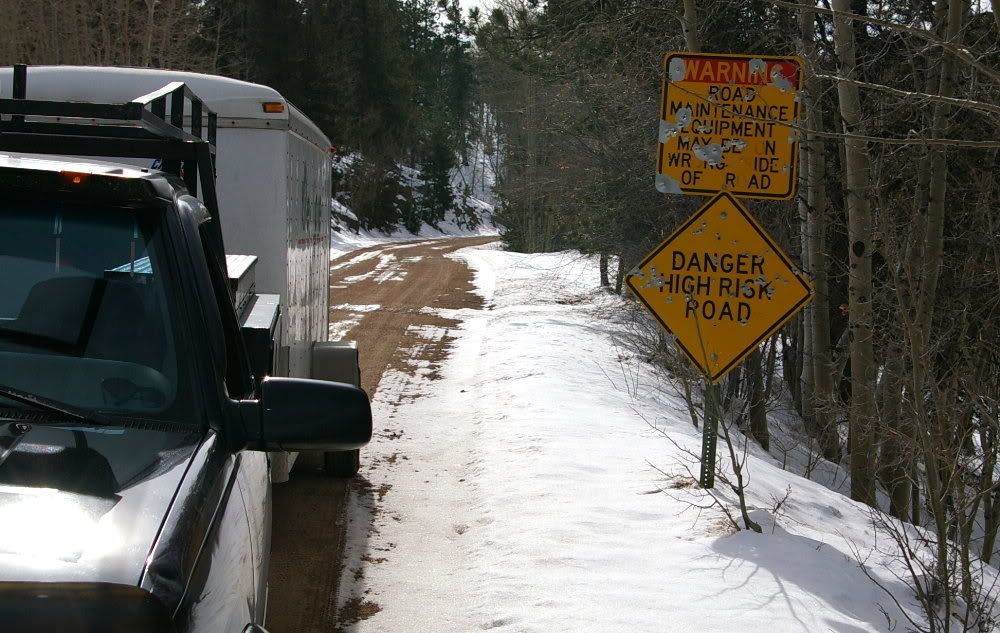 Even though it was at times frightening, it was a morning well spent! Besides all the fantastic scenery and solitude we enjoyed, there was wildlife too.
Sarah spotted a mountain lion high up on the cliff.
He didn't care much for our invasion, and so dissapeared into a break in the rocks before I could get the camera focused.
It might be better to leave the trailer behind, and 4 wheel drive sure wouldn't hurt, but I'll be going back next chance I get! At the top of the canyon, the road was a little better, and there were a couple ranches.
Another of our adventures was a tour of the Grand Canyon.
While vacationing in the winter has some disadvantages, the crowds sure thin out!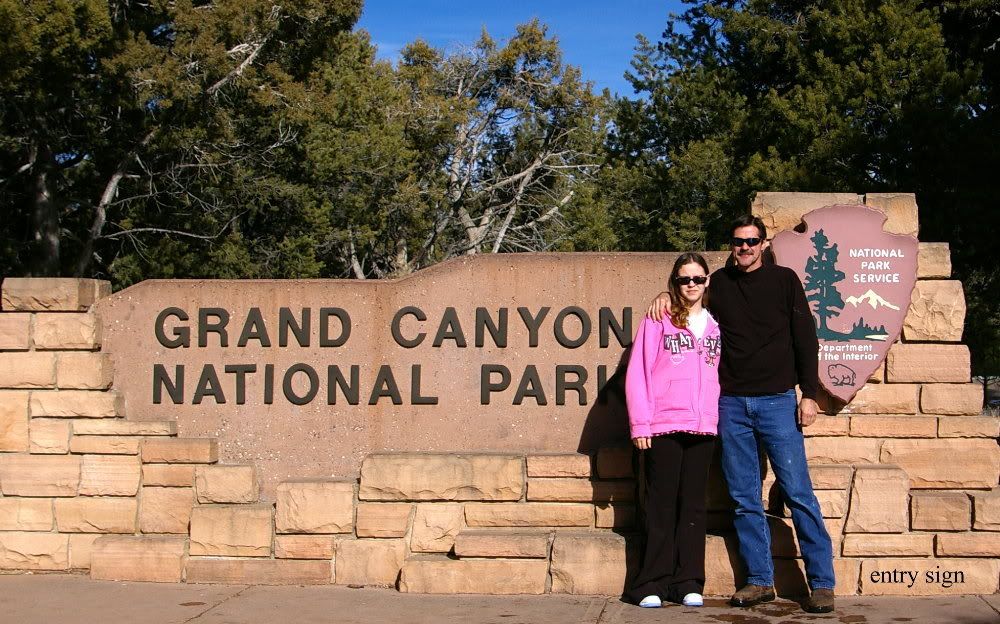 We had hoped to ride the steam train from Durango to Silverton (Colorado) but missed the schedule by one day :(
Same thing with the vintage train going into Royal Gorge... But, since it was the off season, we were granted access to all the roads at Grand Canyon reserved during the busy season for tour buses.
Quite nice to be able to tour all the lookout points at our leisure!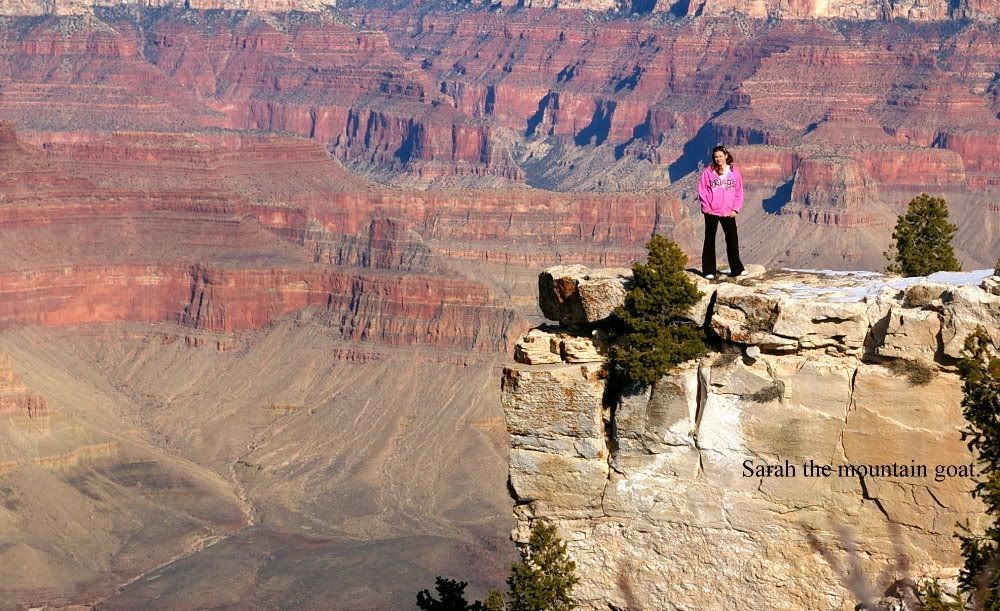 It is impractical to attempt to explain what is the Grand canyon to someone who has not been there in words or pictures, but as do the rest, we must try... 10 miles wide, 277 miles long, and a mile from the edge down to the river...a picture cannot explain.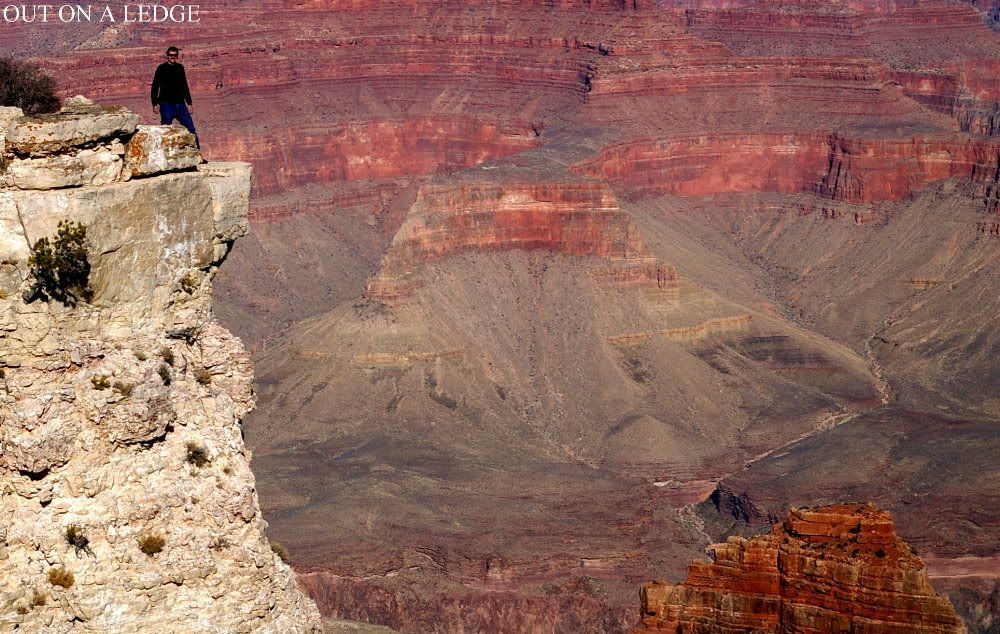 Because of the erosion over time, the initial drop is not a full mile, but only a thousand feet, nonetheless, it makes a person rather nervous to stand so close to certain death...
Night fell over the canyon, as I got one last shot.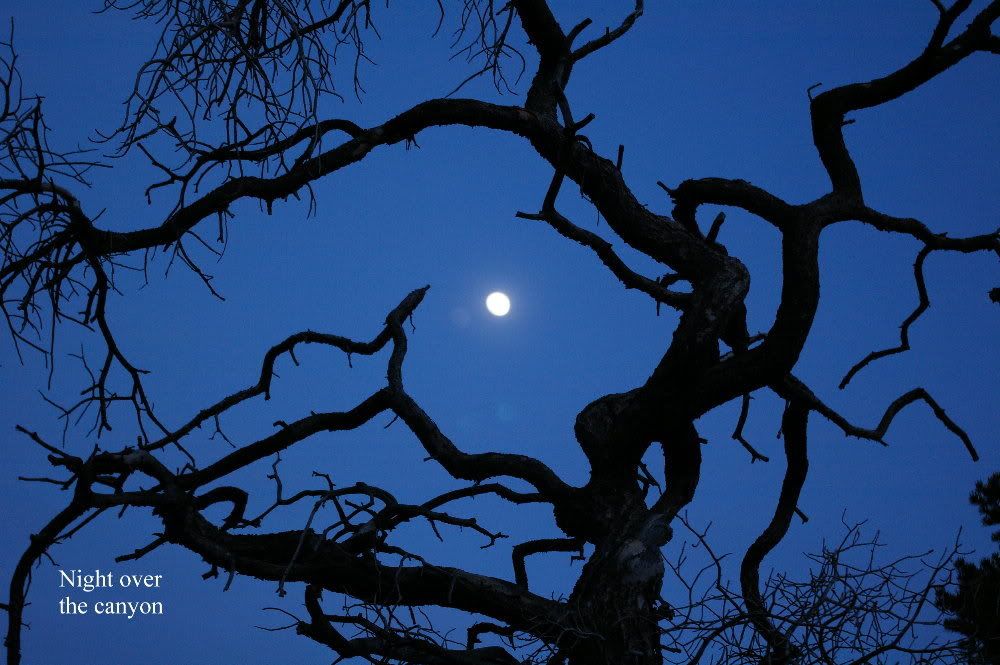 Colorado is a pretty place, in any season.